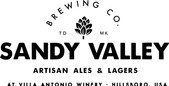 Sandy Valley Brewing Company


Beer as it should be

!
Sandy Valley Brewery is our new small batch, experimental brewery, specializing in subtle twists on traditional styles as well as Wine Barrel fermented Mixed Culture and Wild Ales. We are a collective of farmers, foragers, wine-makers, and artists, so it's no surprise that our base beers often take sudden turns and shifts as the seasons change, and new resources and inspirations emerge.​
We're most excited about exploring the areas where ages-old wine making process and modern beer production collide and cross-pollinate. Please come visit us today or call or email with any questions. We look forward to seeing you soon!
Visit Sandy Valle Brewery web site for more information.